Political TV Hosts
I had the pleasure of working on conceptualizing a Washington Post Magazine piece about the growing political nature of television hosting. Dudley M. Brooks brought in photographer Art Streiber, and the three of us collaborated on concepts that reflect this idea of TV hosting becoming more political. The roundtable-style story features interviews with Seth Meters, Ziwe, Andy Cohen, Padma Lakshmi, and Keke Palmer. Read the full story here: https://www.washingtonpost.com/magazine/interactive/2022/hosting-in-2022/
Credits: Creative art direction, print design, and digital design by Clare Ramirez. Photos by Art Streiber. Photo research by Dudley M. Brooks.
Visual Concepts
Our cover concept was inspired by the act of holding cue cards over a camera for a TV host to read (think Jimmy Fallon or SNL). I worked with the editors to finalize display language so Art could write it on the cue card and photograph it. This would serve as the headline language on the cover.
We had two more concepts: the second was taking the idea of the soapbox and its symbol as a platform for political beliefs and staging it in a modern TV stage where a host would likely make an opening monologue or speech. The last idea was to paint a microphone blue on one side and red on the other, so as to show a divide in politics, and stage it under bright spotlights as if inviting someone to make a statement.
Print Design
The images ran in print in as part of our cover story in Washington Post Magazine.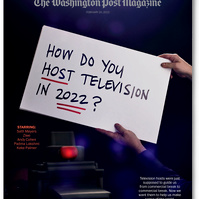 Behind the Scenes
I was on set for the day of the shoot and worked with Art Streiber and his team to bring the concepts to life. I also was able to provide a blank template of our magazine cover so we could test out different images and crops in real time.